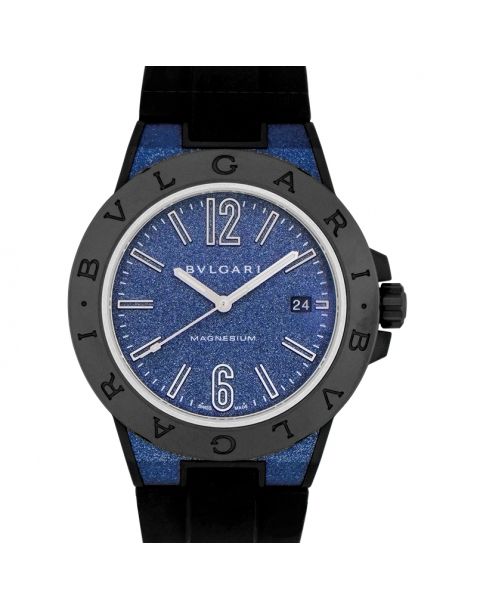 Bvlgari Magnesium Automatic Blue Dial Men's Watch
Estimated Delivery:Dec 09 - Dec 13

Free Shipping & Easy Returns: On All Orders
Product Description
Returns & Exchanges
Warranty
Magnesium Automatic Blue Dial Men's Watch
Return Policy
Our Return Policy is to accept returns within two calendar weeks since the date when our customer initially received the item in dispute.
In general, the main condition of return is avoiding wearing a watch, which you are unsure of.
In order to return a product, the following procedures MUST be met:
The item in dispute should remain brand new; The watch in dispute should be exactly in the same condition you purchased it. If you sized the bracelet (removed links), we will refuse from such an item. All package and protective materials (tapes, plastics, hang tags, accompanying accessories, etc.) MUST remain in place. The returned item should be accompanied by all manuals, which were originally included in our shipment to you. All returns are subject to prior confirmation by our representative over the phone 646-489-4085. RETURNS SHIPPED WITHOUT OUR PRIOR CONSENT WILL NOT BE ACCEPTED. After your return is confirmed by us, you receive a RIRN - a Return Item Ref. No. Please make sure to ship the undesired item in such a way, that we receive it within 7 days since the RIRN assignment. Kindly consider full refund, subject to costs for shipping, obligatory insurance fees and our standard restocking fee of 10% will be applied.  We refund our customers in the same way they remitted their payments to us. Kindly pay your attention to the courier service you are using. We accept only traceable service, e.g. USPS or UPS.
Unfortunately, we cannot accept FedEx courier mails, as their policy is to deny insuring of valuable items priced higher than $500.
Kindly prepay the courier shipping service and insure the full amount of your refund. Unfortunately, we do not accept "Freight Collect" shipping terms. Nor can we accept any responsibility for damages or loss of whatsoever nature, which took place at the time of shipment.
To our opinion, the requirements above are plain, clear and fair.
However, if any or some of them appear inaccessible for you, please inform us about your doubts or concerns. Our Customer Service staff shall do their best to find a solution.
Please note that in all cases our confirmation is the main condition for return.
Watch Time Fly USA is neither affiliated with nor a factory authorized dealer or repair center for the above mentioned brand, watch maker or any other watch brand. Watch Time Fly USA is not an official jeweler for any watch it sells. The manufacturer's warranty no longer attaches and Watch Time Fly USA is the sole warrantor of the watches sold. Watch Time Fly USA warranties all items sold for one year from the date of the original sale. Warranty only covers manufacturer's parts which existed on the watch at the time of the sale and shall be void if altered subsequent to the sale. All watches and watch items sold are previously purchased, pre-owned and/or used even if they appear unused or new. We are not an official dealer for the products we sell and have no affiliation with the manufacturer.
All brand names and trademarks are the property of their respective owners and are used for identification purposes only.
Watch Time Fly USA is honored to have the opportunity to serve you. That is why we stand by all of our products with a full 18-month limited warranty. If an item we sell you should fail as a result of a manufacturer's defect at any time during the first 18 months, we will repair or replace the item at absolutely no cost to you.
If your watch has any symptoms of abnormally gaining time, losing time, or not keeping proper time please do not hesitate to contact us by phone or email. If it is determined by Watch Time Fly USA that a repair under warranty is required one of our trained watch professionals will direct you on how to safely and efficiently ship the watch to us.
Not covered by warranty:
Regular wear-and-tear from normal use.
External damage to the product. Any damages resulting from wear to the watch case, crystal/glass, watch bracelet, watch bezel, straps, screws, crown/stem, finishes, clasps/buckles, or any other physical damage to the watch.
Defects caused by outside force or improper use. Consequential and incidental damages.
The loss of precious, semi-precious stones from settings.
Outside modifications and third party repair attempts of any kind will void the warranty.
Any damage if used under conditions which exceed the watch manufacturer's water resistance guidelines.
Watches that are labeled as water resistant feature a screw down crown. The crown must be screwed down properly at all times to keep the watch casing watertight. Water damage is not covered under the warranty unless it is proven defective by the Watch Time Fly USA Repair and Service Center.
Shipping cost to Watch Time Fly USA.
Watch Time Fly USA is determined to stand behind every part of your shopping experience. The Watch Time Fly USA warranty allows you to make a completely risk-free purchase. This has been our policy and our promise since we began nearly three decades ago serving customers on a local level. Now, we are standing by this policy as we serve online customers from around the world. We look forward to serving you and giving you the incredible value and experience you deserve.